Reykjavik FBO
Reykjavik Airport is located in the capital of Iceland.
Just a 5 minute drive from the airport you will find Reykjavik city center, with all of its culture.
The Reykjavik airport area has an important history for aviation in Iceland, as the first aeroplane to ever fly in Iceland took off from "Vatnsmýrin" which the area is called, in September 1919.
Construction for the airport as we know it today, began in October 1940 by the British Army, as it served as a base for the Royal Air Force for the years to come.
The airport was handed over to the Icelandic Government in 1946.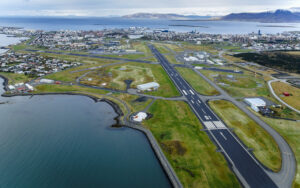 The airport has two runways.
Runway 01/19 which is 1567m long and 45m wide
Runway 13/31 which is 1230m long and 45m wide
The airports fire category is CAT VI, with CAT VII on request with a 30 minute notice.
Fuel types available are:
Airport opening hours
Daily: 07:00 – 23:00
Weekends and public holidays: 08:00 – 23:00
Christmas Eve and New Year's Eve: 07:00 – 16:00
No service New Year's Day, Easter Sunday and Christmas Day.
Refuelling opening hours
Mon.-Fri.: 06:30 – 18:30
Sat., Sun: 07:30 – 19:30
Other opening hours O/R at additional cost